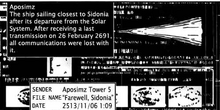 The Aposimz (アポシムズ Aposhimuzu) is the only other named Seed Ship referenced in Knights of Sidonia. Launched from the Solar System sometime around Sidonia's departure, it traveled near to Sidonia's path until their distances diverged too far for communications. The Aposimz' last communication came from over 170 light years away, indicating that it is most likely outside of effective communication range. Even if a message was sent off, the content of the message would be hundreds of years out of date.
It is unknown what type of culture the Aposimz drew from and whether their technology was significantly different from Sidonia's, and - most of all - the current fate of the Aposimz and its crew/passengers.
Links
Community content is available under
CC-BY-SA
unless otherwise noted.