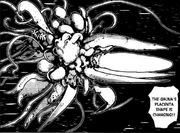 Gauna 487 was the 487th Gauna encountered by Sidonia. It is notable for being the first Gauna in the history of the Human-Gauna war to organically reproduce a Heigus Particle Cannon. Gauna 487 was also the Gauna to swallow Eiko Yamano and her Type-18 Guardian. It is unknown whether the Yamano or the Guardian allowed the Gauna to reproduce a Heigus Particle Cannon, or whether the Gauna inherently possessed the ability.
Fight with Akai Unit
Edit
Mochikuni Akai, single-combat master aboard the Sidonia, and his elite unit of Guardian pilots engaged Gauna 487 in space, as the Gauna approached Sidonia. Gauna 487 was able to destroy all four attacking Guardians in a matter of minutes, despite the Guardian pilots having two Kabizashi. No pilot was able to penetrate the Gauna's True Body with their Kabizashi.
Fight with Kunato Unit
Edit
Norio Kunato, Shizuka Hoshijiro, En Honoka, and Nagate Tanikaze engage Gauna 487 in combat. It is during this fight that the Gauna reveals its ability to fire a Heigus Particle Cannon. 
Gauna 487 was destroyed by Nagate after he retrieved Akai's Kabizashi.
Community content is available under
CC-BY-SA
unless otherwise noted.